With Hurricane Season upon us, it's important for airport professionals to be informed on developing and implementing projects with resiliency to combat severe weather impacts and prepare the airfield for natural disasters such as hurricanes, tornadoes, and floods.
Hurricanes usually develop in a matter of days, leaving a small window of time to prepare not only yourself and your family, but your business and in this case, the airport. There are many ways to pre-prepare an airfield for catastrophic conditions before they arise, which in turn can lead to less damage and clean-up after the storm. This act of building and refurbishing aspects of an airfield with hopes to mitigate future damage is what we call resilience planning.
AVCON has extensive experience in resiliency-forward airfield projects including airfield lighting and electrical system rehabilitations, which can be some of the first things to be impacted by a natural disaster. Some of our electrical engineer's recommendations for resilience planning for airfield lighting include:
Elevating the airfield electrical vault above the flood level (specific to the location of the airport).
Elevate Power Distribution and Control Systems.
Develop procedures for mitigating storm damage i.e., signage removal, structure reinforcement, drainage system clearing, etc.
Sustainable measures should also be taken when upgrading or building new portions of the airfield, and something AVCON always considers when in the design phase. Sustainability is the speed and cost-effectiveness of bringing the airport back to normal operating conditions. Building your airport around sustainable measures such as installing Light-Emitting Diode (LED) fixtures for all lighting and signage can help mitigate time-consuming and expensive damages post-storm. LED lighting requires lower power consumption, a longer-lasting light source, fewer maintenance interventions, and fewer activities within the runway safety area.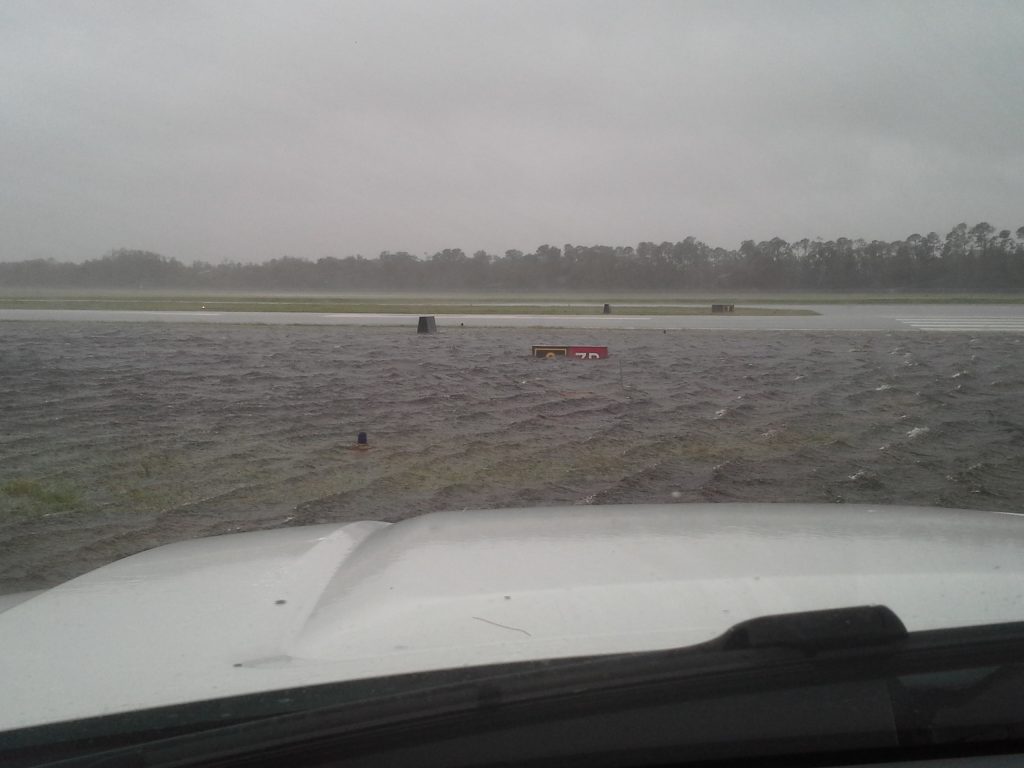 Saltwater from storm surges is an example of where significant damage or lighting/electrical may arise. Not only can flooding overpower stormwater drainage systems but the after-effects of saltwater on electrical equipment can be extremely destructive. Saltwater collecting on or near electrical units could seep into the power or control wiring causing corrosion and rendering airfield lighting non-functional almost instantly. The lighting infrastructure, light bases, lighting fixtures and signage all begin showing signs of corrosion within 4 to 5 days. Lifting electrical units above flood level and installing more sustainable lighting systems with fewer components to service are key to bringing airport lighting back up to operational standards.
Hurricane season runs from June 1st to November 30th and it's more imperative than ever to have a plan of action and prepare for potentially catastrophic weather events. Sustainability and resiliency efforts are important measures to consider when designing and updating airports, but there are also many ways to brace when on the brink of a natural disaster.
A couple of best practices involve:
Developing an emergency response plan: The plan should outline the roles and responsibilities of staff, communication procedures, evacuation protocols, and contingency measures.
Secure infrastructure: Identify vulnerable areas within the airfield or airport, such as hangars, control towers, and fuel storage facilities. Reinforce or retrofit these structures to withstand high winds, and secure loose objects that could become projectiles, such as signs, equipment, or debris.
Clear surrounding areas: Remove or secure any loose objects, debris, or vegetation around the airfield or airport that could potentially be swept up by strong winds and cause damage to aircraft or infrastructure. This includes trimming trees and securing construction sites.
Drainage systems: Ensure that all drainage systems, including stormwater drains and ditches, are clear and functional. Remove any blockages that could lead to flooding and evaluate the capacity of these systems to handle heavy rainfall associated with hurricanes.
Backup power and utilities: Install backup power systems, such as generators, to ensure essential services like communication, lighting, and emergency systems remain functional during power outages.
While mother nature can pose unforeseen and consequential damage, preparation and knowledge are the keys to successfully leading your team through hurricane season and other natural disasters posing a threat to the airport.
AVCON provides airport electrical design for primary power distribution, airfield lighting controls, and airfield lighting improvements. The firm's expertise in airfield lighting is among the best in the nation. AVCON has successfully designed and implemented over 7 million feet of cable, over 6,900 runway lights, over 15,000 taxiway lights, over 1,100 guard lights, over 1,900 signs, over 20 runway status lights, over 27 vaults, and over 50 wind cones. In addition, AVCON has also contributed to the review and development of various new FAA advisory circulars and design guidelines and has been recognized for quality design and construction of its projects. The firm has introduced cost savings as well as new, innovative and sustainable solutions, to create better long-lasting design results for all its engineering projects.
For more information, contact one of our Airfield Lighting Specialists:
Mark Goodacre, ACE
Airfield Lighting Design Manager
Mark Goodacre, ACE has more than 40 years of experience in the planning, design, construction, and maintenance of electrical distribution systems and airfield lighting systems. He is an AAAE Airport Certified Employee (ACE) in the field of Airfield Lighting Maintenance, and he serves as an instructor for the Florida Airports Council's (FAC) Basic Airfield Electrical Safety Workshop. He has experience preparing design documentation for an airfield's lighting layout and circuitry for all associated Runways, Taxiways and Parking Aprons. Additionally, he has special expertise in 3D modeling.

Lee Nemer, EI, ACE
Electrical Engineer
Lee Nemer, EI, ACE is an electrical engineer with 3 years of experience. He has worked on multiple airport projects throughout Florida, North Carolina, Texas, and Alabama. His skills include lighting layouts, circuit design, duct bank system design, manhole design, and vault work. He has provided cost estimates for large scale projects and is proficient in AutoCAD.